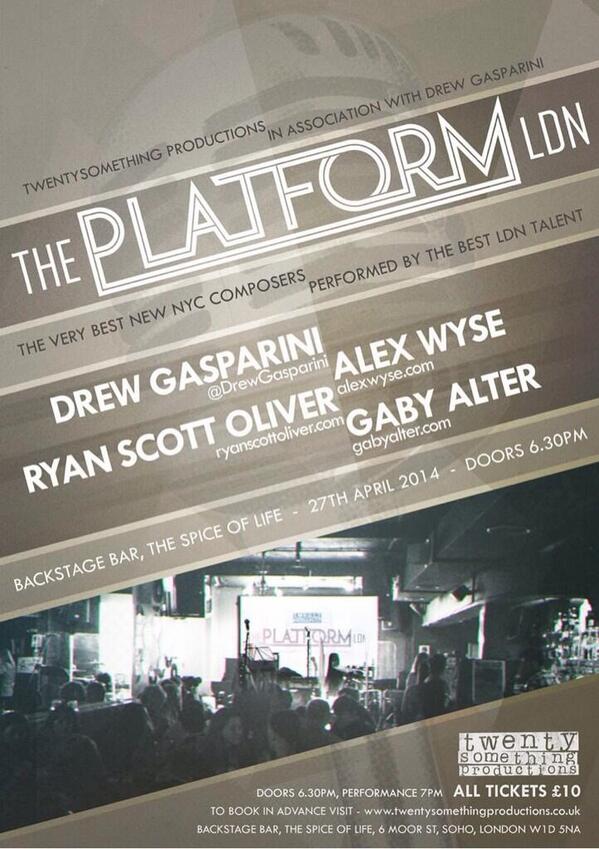 TODAY I BRING YOU TWO BLOG POSTS IN ONE! And now for a first, my first review!
I had the pleasure of attending twenty something productions "THE PLATFORM LDN" cabaret at the Spice of Life last weekend. In case you didn't know, twenty something productions are a company formed by Ben Vivian-Jones and Amy-Jean Ward, lovers of contemporary American Musical Theatre and passionate about bringing it to us via talented young things in London. THE PLATFORM is a concert series that was started by composer Drew Gasparini in New York (one of the contributors to the cabaret here in London) as an opportunity for contemporary american writers to showcase their work. Upon seeing the show in NYC, the pair decided that us Brits shouldn't be deprived from the talent across the pond, and so THE PLATFORM LDN was born.
Their recent showcase featured songs by Gaby Alter, Drew Gasparini, Ryan Scott Oliver, Alex Wyse, Robert Baumgartner and Joey Contreras. I had actually only heard of three of these composers but still only heard one song that I knew which was so refreshing for showcases such as these. It's so easy for the same amazing songs to be re-produced again and again so it was great for me and the audience to be introduced to some writing we'd never heard before.
The show opened with group number "21" by Gaby Alter which i think set the energy that was to remain for the rest of the evening. It was a song full of 20-something angst at life, love, and growing up, and was performed with zeal by the cast and the band. It was actually great to see the band giving it some balls too – kudos to the pianist who spent the majority of the performance seriously rocking out! A favourite of the first half was "Happy Times" by Alex Wyse and performed by Nicola Kill. The generic american contemporary musical theatre song can get monotonous ,but Alex Wyse has shown that contemporary doesn't mean you can't tackle other genres ,and Nicola Kill gave a suitably vamped up and empowered performance of this jazzy number. Another highlight of the first half came from Amy-Jean Ward and John Sandberg in "Pinch Me" by Drew Gasparini. Both fully committed to the awkwardness of this number, and Amy-Jean's expression during the "awkward embrace" (youtube it if you haven't seen it!) was an absolute picture. A great comedy duet, brilliantly performed that really helped to create a well-rounded first act of entertainment.
My pick of the evening would definitely be the catchy-to-the-point-where-it's-still-stuck-in-my-head "Valley High" also by Drew Gasparini. The songs subject matter is centred around a high school shooting (I'm not sure which hence why i don't want to quote!) but despite this, it was a light and thoroughly interesting song. Performed by Andrew Osbourne, Nicholas Corre and Ben Vivian-Jones, each provided their own take on the inner thoughts of thecharacter and it proved to be a really captivating performance for the audience, as well as toe-tappingly good! Taking it full circle, the night ended with group number "The Wreck" by Drew Gasparini, all about not caring about whether you're a "wreck" which was a nice bookend to the start of the show. It was upbeat, fun and again summed up the energy, talent and brilliance of the evening.
I thoroughly enjoyed my time and cannot wait to see what twenty something productions have in store for us next. My only wish is that something like this existed for British writers too (See my recent blog post about why!)
THE PLATFORM LDN does exactly what it says on the tin. It provides a platform to launch new music here in London. I was overwhelmed by the sheer amount of talented writing and performances (From the cast and the band) that evening, and it gives me hope that this industry is still something worth being a part of, if only just to see what new work we can discover. I look forward to following their progress in the future.
You can find out more about twenty something productions here:
http://twentysomethingproductions.co.uk/
Or follow them on twitter: @20sumthin
They're also taking a new musical "6" by Zack Zadek to the Fringe too, so if you're up in Edinburgh – Check them out!
THE PLATFORM LDN 27/04/2014 Set List:
GA – Gaby Alter
DG – Drew Gasparini
RSO – Ryan Scott Oliver
AW – Alex Wyse
RB – Robert Baumgartner
JC – Joey Contreras
• 21 – GA
• My Time With You – AW – Nicholas Corre
• Sorrow Done – RSO – Olga-Marie Pratt
• What Lies Ahead – AW – Gregory Hazel
• Happy Times – AW – Nicola Kill
• Pinch Me – DG – AJ Ward & John Sandberg
• The Flood – AW – Andrew Osbourne
• Make Me Happy – RSO – Chelsea Taylor-Day & Ben Vivian Jones
• The Princess – GA – Charlotte Bradford
• On Monday – RSO – Chloe Nicolson
• Picking Up Speed – AW – Nicholas Corre & John Sandberg
• Pictures of the Bordersigns – RB – Olga-Marie Pratt
• Love Me Love Me Not – JC – AJ Ward
• Twirler Girl – GA – Olga-Marie Pratt & Nicholas Corre
• Valley High – DG – Andrew Osbourne, Nicholas Corre, Ben Vivian-Jones
• Ruination – RSO – Chelsea Taylor-Day
• The Wreck – DG – John Sandberg, Nicola Kill, Chloe Nicolson & AJ Ward.
<a href="http://www.bloglovin.com/blog/12238135/?claim=knmnk22d5x7″>Follow my blog with Bloglovin</a>